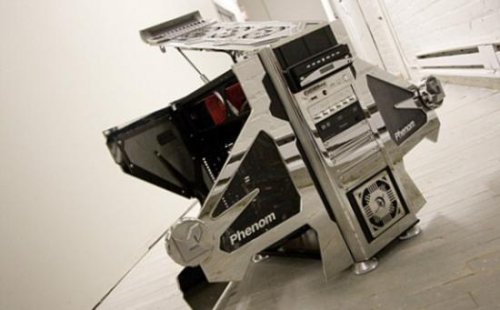 This is one of the coolest, most awesome, most jawdropping PC case mods we've seen in awhile. This AMD Phenom PC Case opens up in almost all directions, and looks a lot like a Transformer. It even features a green lighting scheme. Seriously, this thing looks like it's about to take flight and fight another robot and fill your home with explosions and flying parts.
It's got a certain classic Cylon look about it too. Look at the picture. Now look at yours. Yeah, now that you've seen it, you know what is missing in your life. It was created by Bill Owen, who is a true genius among men. We are not worthy.

You don't suppose it actually flies do ya?
AMD, build, case, DIY, hack, make, mod, pc, Phenom, Transformer