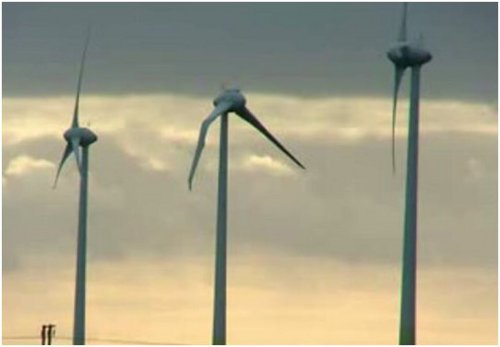 Something caused this wind turbine in the UK to break. It could have been any of a million things, all very rational. But residents of the village of Conisholme, in Lincolnshire are having none of that. They know that aliens did it. And they don't need any stinkin' Men In Black, Mulder & Scully, Leonard Nimoy, Agents from Majestic or Alien corpses to prove it.
They claim that they saw bright lights in the sky "like an octopus' tentacles" right around the time that the blades were damaged. Others claim that the damage was the result of a "cow-sized ice chunk" and even a "robot stealth bomber" was blamed. According to The Guardian, the mysterious lights were most likely from fireworks being shot off for one of their 80 year old residents. But what are you going to believe, something rational, or stories about aliens in robot stealth bombers?

I vote robot stealth bombers. Whatever happened in this sleepy village, they are down one wind turbine and the question on everyone's lips? Where was I for two hours and why is my butt sore?
aliens, power, strange, turbine, uk, weird, wind