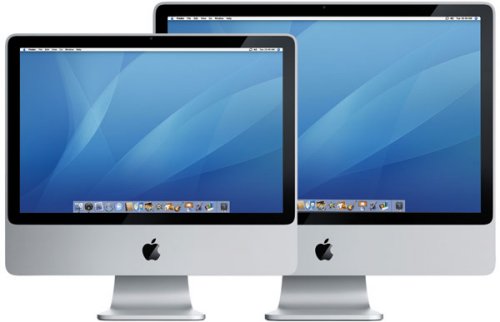 Add this one to the ever growing pantheon of Apple rumors. PCPerspective has reason to believe that Apple is preparing a 24″ iMac. They say that we will get a set of four new iMac computers announced this week. Two 20″ iMacs with an NVIDIA integrated-GPU chipset based on the MCP79 design (the same used in the most recent MacBook and MacBook Pro notebooks) and one of those will include the mobility GeForce 9600-series discrete GPU as well. This integrated + discrete graphics solution is basically identical the setup the new 15″ MacBook Pro includes.
If you buy into the hype, the 24″ iMacs will have the same integrated chipset but both of these will include discrete graphics solutions. The lower-end 24″ model will use the same mobility 9600 series that the MacBook Pro uses and the higher-end model will use a slightly faster GeForce 9800M solution. That would make the new 24″ iMac a useful gaming machine.

They also believe that Apple is preparing a 28″ iMac that would be powered by a Corei7, the latest processor from Intel. That would be amazing just because of the sheer size. To recap, three iMacs will have a NVIDIA chipset with integrated graphics, but the Corei7 version will run using Intel's X58 chipset as NVIDIA doesn't have a product to cover that yet.
What to think. We aren't buying this one just yet, but who knows?
24-Inch, Apple, iMac, MacBook, macworld, mini, rumor