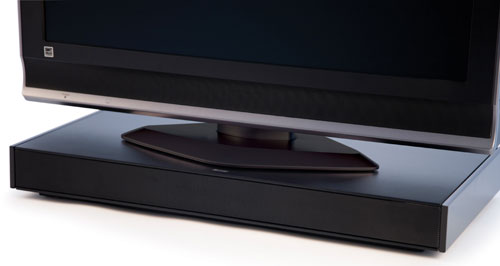 I wanted a surround sound system for many years and for one reason or another, I was never able to get one set up. In the early years of being married, our apartments were too small for a surround sound setup. Then once we had a house the wife deemed wires and speakers too ugly.
At the time, there were no sound bars for me to use, but for those in similar situations today you have options. ZVOX has a new device called the Z-Base All-in-One Home Theater that sits under the TV. Inside the scratch resistant case resides five 2-inch full-range speakers and one 5.25-inch powered subwoofer.
The system uses PhaseCue virtual surround sound tech to replicate a real surround sound experience. The complete system has 60-watts of power, which seems a bit weak on power to me for the $499.99 asking price. That said you never know, I have a Denon system that is tiny but will blow you out of the room. The most interesting feature is that the Z-Base is designed for TVs in the 32-inch to 47-inch size range to sit on top of it.
Home Theater, surround sound