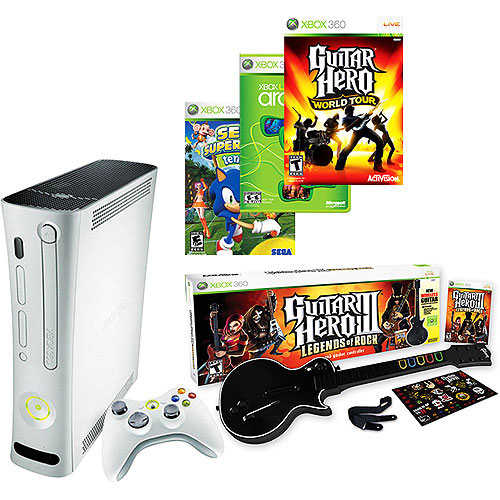 Those brave enough to venture into stores Friday were able to get their hands on some great electronics deals. Today is Cyber Monday when deals are offered by many retailers online. If you have an Xbox 360 on your shopping list to give to a loved one, Walmart has a deal for you.
Walmart is offering an Xbox 360 bundle today that includes an Xbox 360 Arcade console, Guitar Hero III Legends of Rock Game, Guitar Hero World Tour game, and a Wireless Gibson Les Paul controller. Other games are included in the bundle too like Sega Super Star Tennis, and five arcade games including Luxor 2 and Pac-Man.
The bundle retails for $269 and is in stock for delivery to the store or to your home. The only downside to the bundle is that the Arcade console lacks internal memory for downloading games from the online store. You might need to grab an external hard drive to go with the bundle.
Cyber Monday, walmart, xbox 360