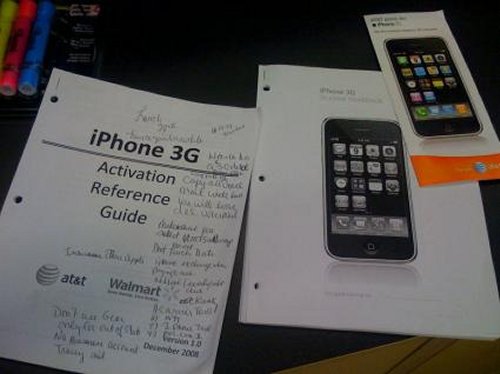 So, you've been waiting for the iPhone to hit Walmart, so you can stock up on paper towels, buy a DVD and throw an iPhone in your squeaky cart all at once. Well you're in luck assuming you didn't get killed by greedy shoppers during black Friday. Looks like Apple will begin selling the iPhone at Wal-Marts on December 28th.
Wal-Mart employees are apparently already receiving training on iPhone activation. Today Boy Genius Report claims that Apple may be reintroducing the 4GB iPhone to be sold at Wal-Mart for only $99 with a two year contract. They aren't completely confident about the report, so it should be taken with a grain of salt. However, the Walmart training materials pictured above have been seen so that suggests there is some truth to it.

A $99 iPhone at Walmart. Who would have thought?
$99, 4GB, iPhone, Wal-Mart, walmart