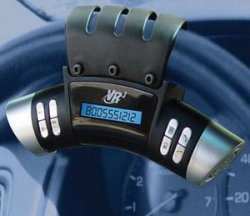 In many states you aren't supposed to hold a cell phone while driving. It's the law. I once saw a teenage girl talking on her phone while driving a pick up truck, run straight into a parked car. There was nothing else around her for miles. She was simply distracted and didn't have her focus on driving. This VR3 Bluetooth Steering Wheel Console might help those who have trouble doing two things at once.
It gives you hands free wireless chatting directly in front of you, with a design that keeps your hands on the wheel for safety. Sure, it's ugly as hell, but so is an ambulance ride or a mangled corpse. It's only $99.99.

The device works with your Bluetooth phone so you can keep both hands where they belong.
Bluetooth, car, cell phone, chatting, console, hands-free, steering wheel, talking, VR3