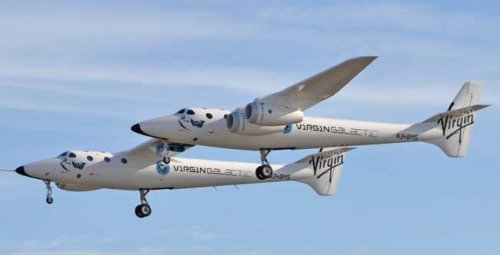 They did ground tests last week, but yesterday morning WhiteKnightTwo, the strange looking double-wide plane that will carry SpaceShipTwo and its cargo on suborbital spaceflights, finally took off on its maiden voyage. Four Pratt & Whitney Canada PW308A engines carried the craft into the air.
The flight didn't last long, just under an hour, and apparently all went perfectly according to plan. The design is pretty amazing and makes we realize that we may just be living in the beginning of Star Trek times, at long last. Soon they'll be building the Enterprise in orbit.

And what are the odds that identical twins are flying this thing?
Aircraft, Flight, maiden voyage, Virgin Galactic, WhiteKnightTwo