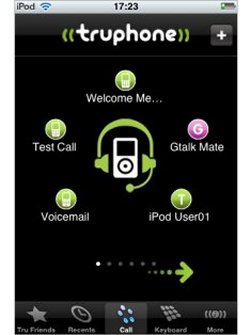 I know that many of you get sick of your iPhone-using friends giving you a hard time because your iPod can't make any calls. That just sucks. Well, Truphone may be the answer to your problems. It's a software solution that can turn the iPod touch into an iPhone. Sort of.
It does require a microphone adapter first. Then, you'll be able to make free calls to users of Truphone's Internet telephony service, as well as other iPod touch owners and even Google Talk users. This new app is free at the App Store, and will see many new features in the near future. Features like making and receiving low-cost calls to and from landlines, calling and instant messaging to Skype and MSN, check and set facilities for Facebook and check and set facilities for Twitter.

It won't replace your iPhone just yet, but it is a start.