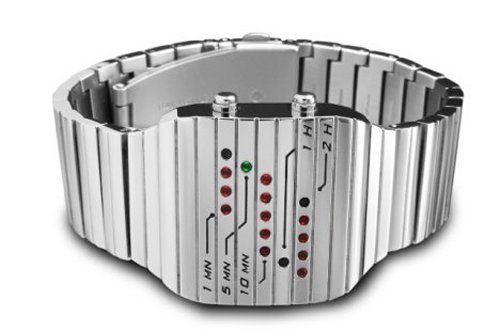 Tokyoflash, those wild and crazy watch makers just never take a breather. Which is great for us, because if it wasn't for Tokyoflash, watches would be boring. They're back, having never left, with their latest wristwatch known as the Ni.
This design is at once stylish and minimal. The Ni is made entirely from stainless steel and features a polished finish, with horizontal grooves on the face and strap that give it a great look. The time progresses in one direction. Touch the upper button for an animation before the time is displayed. Each LED on the bottom line indicates two hours, the line above indicates a single hour, a combination presenting the current hour. Groups of 10 minutes are presented on the center row and single minutes on the upper two lines.

The Tokyoflash Ni will cost you $144 should you choose to put it in my Christmas stocking.
modern, Ni, time, TokyoFlash, watch, wrist