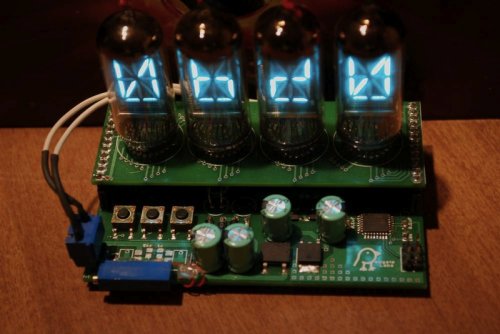 Swearing has lost it's luster, let's face it. Words that used to have an impact just don't do it anymore. We've become de-sensitized. We need a new way to sling profanity. Like with a clock. The Super Electrofluorescent Profanity Machine will generate random four-letter words for you at the rate of one per second. The machine was constructed from fluorescent vacuum tubes, and also tells time. We just love clocks that use vacuum tubes, but we never thought we would see them swearing.
It will cost you $125, but if you have the money, it's an interesting take on the whole tube/clock/swearing thing. According to the designer, every four-letter English word could possibly show up on the display. To prevent gibberish, the device is programmed to display pronounceable words, not just random letters.

With this clock, you can enjoy new times of day such as "crap" or "poop". Looks like a lotta fun.
clock, Electrofluorescent, machine, Profanity, Super, swears, time