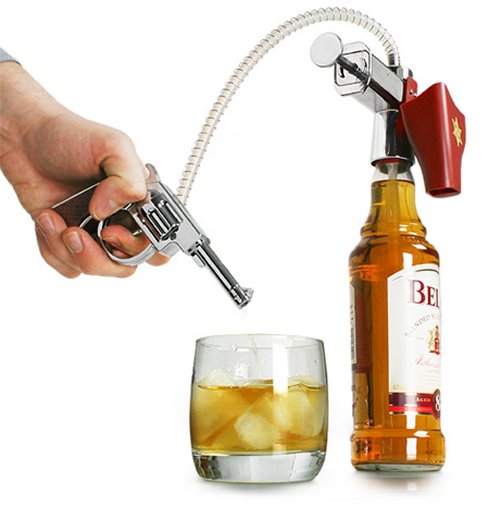 There's a new sheriff in town, and he's serving up booze. The Shots Gun Drink Dispenser will only cost you about $22 and it even comes with a holster. It's a gun that shoots booze. What could be better? It will let you impress your friends as you shoot up some drinks and shoot off your mouth. Though it may be a small weapon, it packs a powerful punch.
I know what you're thinking. Did he fire six shots, or…only five? Do you feel lucky punk? Do ya? Then have another drink. It will fit on any bottle of liquor. Simply put the holster on your bottle, begin pumping the pump-action lever and you'll be shooting more rounds then Ron Jeremy during production hours.

It beats sucking beer through a skull with a spine attached.
beer, booze, dispenser, drink, gun, pistol, Shots