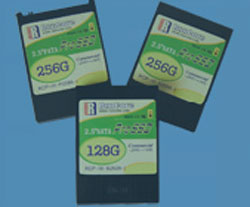 There are a few common threads in the SSD market no matter the maker of the device. These threads include price premiums and better performance. For some markets, the high price of SSDs has kept them from being popular despite the performance benefits.
RunCore has announced a new line of SSDs that are 1.8-inch PATA drop in replacements for many portable notebooks that use standard 1.8-inch HDDs. The SSDs come in 16GB, 32GB, 64GB, and 128GB capacities retailing for $69.99, $119.99, $199.99, and $389.99 respectively.
The firm also announced a 2.5-inch SATA SSD offering 256GB of storage called the Pro III Hyper Speed 2.5-inch SATA. The drive retails for a not so cheap $699.99, but offers fast speeds. The read speed is 230MB/sec and the write speed in 150MB/sec for teh 2.5-inch SSD.
RunCore, SSD