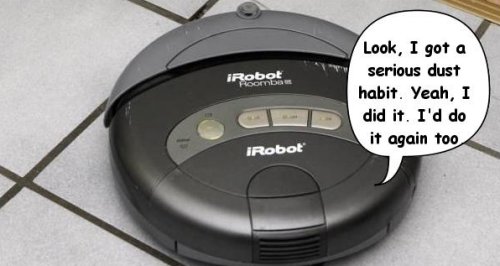 Roomba owners should really shut their bots off before leaving their house and arming the alarm system. Here's why. A Roomba in a Denmark home got all hopped up on dust and dirt and tripped the motion sensors. It was just jonesin' to snort some debris while its owners were out on the town.
The alarm was tripped, and the authorities were automatically phoned. They arrived to see that the little bot had gorged itself in a shameless and lonely orgy of filth. Otherwise all was well.

They decided not to press charges as it had nothing to handcuff. And they couldn't put it under house arrest because it had no ankle for the bracelet and it was kinda already under house arrest.
carpet, dust, home alarm, robot, Roomba, Vacuum