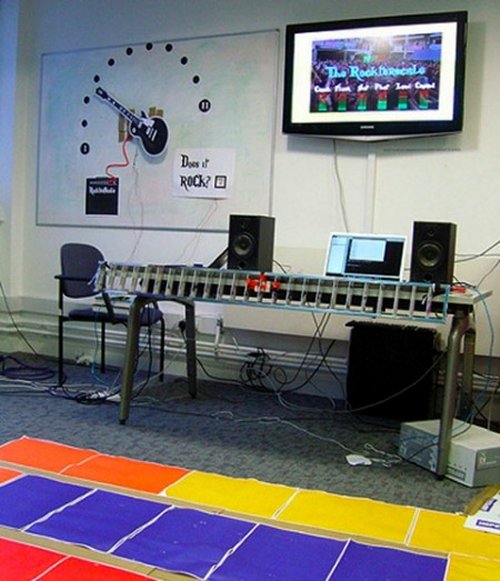 The Rockterscale is an advanced scientific instrument that measures exactly how hard a crowd is rocking out. The Hat of Rock measures the amount of head thrashing going on, while the dance floor mat pictured above measures the amount of dancing and foot movement happening. Note the crash barrier in front which uses a force sensor to determine how hard the crowd is pushing against it.
There's also a webcam on the ceiling to measure the movement of the crowd as well as audio monitors to get a sound level reading. Basically, it determines if you are rocking or sucking. Rocking is complicated business after all. It's not all just panties on the stage and ten minute guitar solos.Check out a video of the Rockterscale in action below.

Rock on my brothas.

Building the Rockterscale! from Ben Hanbury on Vimeo.
DIY, hack, hard, measures, mod, music, rock, rocking, Rockterscale