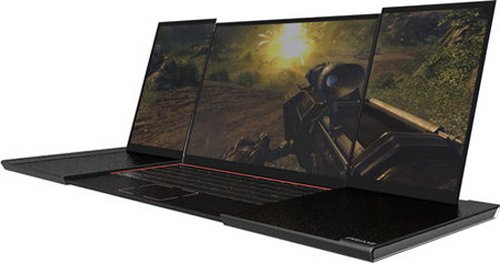 We've been really digging the Lenovo W700ds, with it's two screens. What the hell, why not go for three screens on a laptop? If this laptop ever goes into production, gamers will be ditching their old ones like a herpes infested girlfriend with a questionable past. The screens are all collapsible on this gaming laptop concept.
It's called the Prime Gaming Laptop, designed by Kyle Cherry and it is a thing of beauty. It features three collapsible screens that offer a wide viewing panels. When open, it has a 32:10 aspect for better in game visibility. It even closes to the size of a 13″ notebook and opens up to a supper wide aspect 26″ notebook. The main screen is a 10″ concealed OLED screen featuring 16:10 aspect. Both the left and the right screens are Aux OLED screens with an 8:10 aspect.

It boasts an aluminum body for strength and cooling. Sure it would cost a fortune, but I have no doubt that gamers would sell their soul to get one.