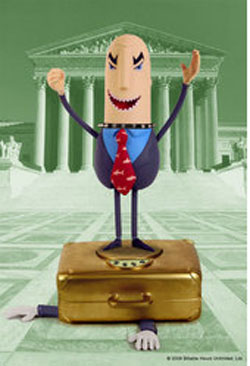 I can think of lots of pets that I wouldn't want to own. Things like a big snake, that huge dog from Cujo, and a spider monkey that's always whacking come to mind. Perhaps the worst pet you could ever own would be a lawyer.
If you feel differently, you can adopt a lawyer just in time for the holidays. The My Pet Lawyer doll thingy is a remote controlled gadget that will blurt out nine different saying like "You talkin' to me, sharkbait?!" to "Pro Bono? Never heard of him!"
The toy has eyes and a mouth that light up with an evil glow and it can sit or stand on its briefcase. Under the scales of justice briefcase is the My Pet Lawyer's last owner. Magnets keep the gadget standing and the head has magnets for optional accessories like wigs. You can adopt your own My Pet Lawyer for $34.99.
gadgets, Lawyer, Toys