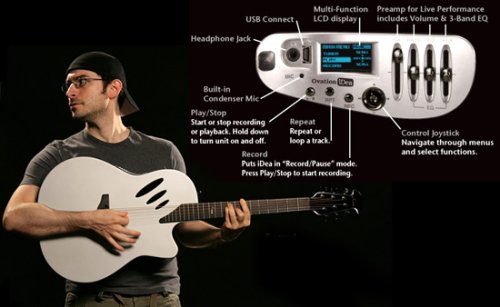 Imagine how many times great musicians have lost masterpieces just because they didn't have a way to document it. That's where the iDea guitar from Ovation comes in. It's the first guitar to feature a built-in MP3 player for just such occasions. There isn't much info on specs, but it probably has a decent amount of flash storage so you can record anything on a whim. It features a control panel on the side with an LCD display, mic input and a USB connection. It also has an easy to use 4-way controller for menu navigation. If that's not enough, you get a set of basic EQ sliders for the bass, mid and treb.
It will let you record the guitar, mic or anything else that's connected to the aux in jack. You can even mix those features together or use the pitch-stable variable speed playback option to slow things down for practice.

The Ovation iDea guitar is available right now for about $600.
guitar, iDea, MP3, Ovation, Record, Recording