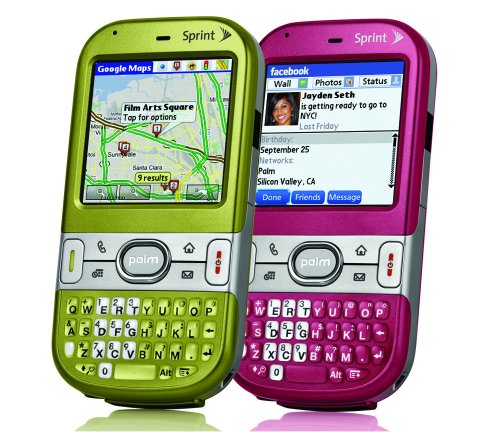 A common gift people will give themselves for the holiday season is a new phone. With broadband networks getting faster by the minute, a phone that is smart enough to handle surfing the internet, getting email, supporting IM's and taking pictures becomes more and more attractive. This holiday season we had the opportunity to take a look at a couple of Palm's smartphones, and in particular we spent some time with the new Olive-colored Palm Centro.
If you're in the market for your first smartphone or you're just looking for something that's slick and easy to use with broadband access you will be well-served to take a look at the Palm Centro. Palm has been getting some mixed reviews lately when placed against some of the latest in smartphone technology such as RIM's Blackberry or Apple's iPhone, but we found the Centro to be a refreshing and fun device, and at just the right price.
The first thing you'll probably notice when you get your hands on one, and you must get your hands on one to really appreciate it, is the texture of the case. It's feels like some type of hard rubber that is smooth to the touch but still gives a good grip. We liked it much better than many of the other phones we've held with a glossy plastic finish.
The bright color display is another key feature that will catch your eye. The Palm Centro runs the Palm OS and has very easy-to-use icons to navigate through by using the center button to go up, down, right, left and select. What's more is the Centro is a touchscreen phone which really rounds out the intuitive use of the device, making navigating and selecting items very obvious. There is also a discretely hidden stylus in back should your fingers be a little less than accurate.
Keep in mind that this model isn't the original Centro, but the newly redone model that comes in Olive or Rose. The green color was actually much more appealing in person than we saw in the pictures. The new Centro's come with double the memory at 128MB (can handle up to 4GB external microSD), Google Maps and Facebook pre-installed and of course the new colors. If you've looked at the Centro's before you might want to take another look.
There are a couple of downsides to the Centro of course, as there is with most things. The display is a little on the small side which makes viewing web pages, pictures or reading text a little on tight side. It also does not have Wi-Fi however this is getting to be a little less of a big deal with faster broadband speeds, but is handy nevertheless if you want to surf the internet free of charge. And, it does have a full QWERTY keyboard which is nice, but they are a little bit packed in. There is a nice rubber-like coating on the keys which helps with the feel but you have to be accurate to type quickly.
But, the trade off for us is that you can get the new Centro for just $79 with a 2-year contract at Sprint. In fact, you can get the original Centro from sprint (not the new Olive or Rose) for $0 at sprint with a 2-year contract. For us, the few things that the Centro is lacking is compensated by the price.
Overall we were quite pleased with the Palm Centro. It has a solid and comfortable feel in a relatively small, simple package. It has excellent battery life, a nice color display and a simple interface that will bring the internet with you wherever you go. Anyone still looking for a smartphone this season should definitely add the Centro to their list of smart devices to consider.
Olive, Olive Palm Centro, Palm, Palm Centro, Review