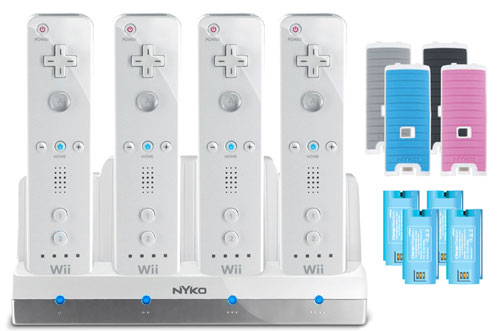 The Nintendo Wii continues to dominate the sales charts and sell so well that most people who want one can't find it. Odds are the Wii is at the top of many holiday wish lists this Christmas season. If you have been lucky enough to get your hands on a Wii, you will need some accessories to go with it. One such accessory is a charge station for the remotes.
Nyko has announced a new accessory called the Charge Station Quad for Nintendo Wii that will retail for $49.99. The device has spots for four Wii Remotes and includes new rechargeable batteries and battery doors to allow the Wii Remotes to be recharged.
The cradle can charge all four Wii Remotes at once and features LED charge indicator lights, four NiMH rechargeable battery packs, a six-foot long power cable and four rubber Wii Remote battery covers to provide grip.
Nintendo, Nyko, Wii, Wii remote