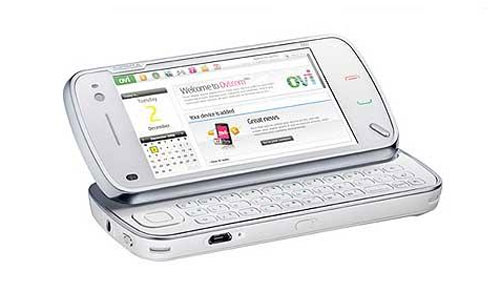 The iPhone is one of the most desired smartphones on the planet and is at the top of the sales charts for all phones in the US. The latest phone to take aim at the iPhone has been announced by Nokia. As you expect the phone has a touchscreen and a few features that iPhone owners will wish they had.
The touchscreen is 3.5-inches and offers a 16:9 aspect ratio. Under the touchscreen is a slide out QWERTY keyboard for typing email and text messages on the go. The N97 has 32GB of onboard memory and a microSD card slot.
The phone also has a camera that offers 5-megapixel resolution, has a dual LED flash, and can capture DVD quality video. The flash should make for a camera that performs well in low light. Optics for the camera are from Carl Zeiss. The microSD card slot supports cards up to 16GB. The N97 will begin shipping in the first half of 2009 at EUR 550. No word on availability or pricing for U.S. fans is available at this time.
N97, Nokia, smartphone