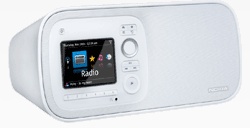 It's safe to say that Nokia has been busy. Earlier we had a look at the N97. Now Nokia has dropped the Home Music, the company's first internet radio. It's designed for the office or your smart home, as the device features WiFi and Ethernet connectivity, along with typical USB port, aux line-in, analog and digital outputs.
If for some reason you can't break away from FM, it also features an FM receiver and a 10W speaker. No pricing info yet or shipping date, but we'll let you know when we hear something.

It's not a bad looking radio, but we hope more colors might be available.
Home Music, Nokia, Radio, wi-fi