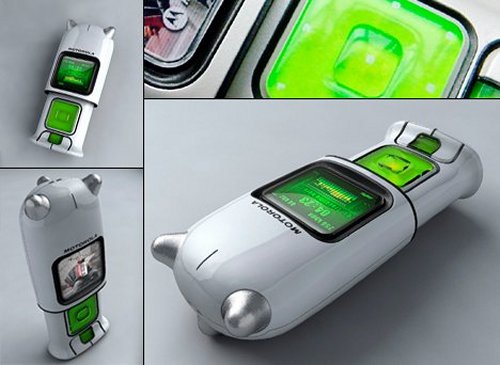 This concept Motorola handset likes like a kick-ass robot Hello Kitty demon that has arisen from the ashes of it's own hell-fire. It's here to chew bubble gum and kick ass. It's all out of bubble gum.
Take this Hello Kitty fans. This thing will kick your thing's ass. It will eat Hello Kitty, poop her out and repeat the process all over again. It features a very limited button selection, camera, color screen, and hiding feature. It's the "Cute Phone!". I don't know about that, but it's pretty damn freaky. And I hope to God it can help rid our world of Hello Kitty. Pray with me.

Dear Motorola concept. Please kick Hello Kitty's ass. I realize that you are just as bad. Maybe even evil. But I'll go with you. P.S. You look like a dork.
concept, Damn that's ugly, Hello Kitty, Is this our savior?, Motorola, phone, weird