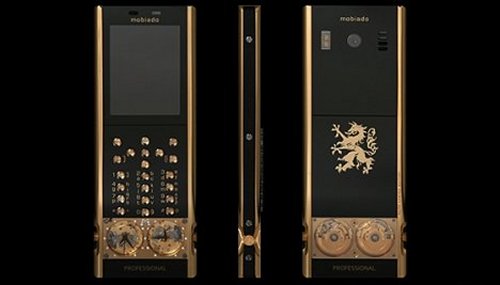 Mobiado is famous for its range of high-end cell phones, and the Professional 105GMT Gold handset is their latest. They call it "the expression of mechanical perfection, mastering of aesthetic details, and the integrity of consistent craftsmanship."
The 105GMT Gold is made from single piece of sapphire crystal, ebony wood and a CNC-machined frame with a 24-carat gold coating on top. The keypad is made from sapphire crystal too, and hand painted with gold. What makes the Professional 105GMT Gold phone stand out from the rest of these gilded luxury phones is that it features a watch mechanism at the base of the case. No idea on price, but since it will be limited to just 50 units worldwide, expect to pay a small fortune.

Some features include: Quad-band GSM/GPRS/EDGE connectivity (850/900/1800/1900MHz), Dual-band WCDMA connectivity (850/2100MHz), 2″ TFT display with 16.7 million colors and 320 x 240 pixels, Music & video players, Bluetooth 1.2 with EDR connectivity, Micro USB, 2 megapixel camera with video recording and 1GB of on-board memory.
105GMT, gold, mechanical, Mobiado, phone, Professional, watch