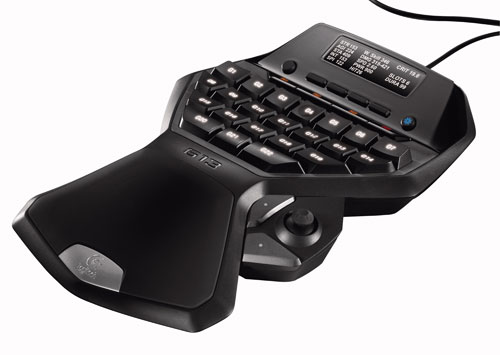 There have been gamepads on the market for a long time now from Saitek and Belkin to name a couple. The idea behind a gamepad is to place fewer keys in an arrangement that makes them easier to reach and removes extra keys not needed when gaming. The reality of a game pad is that you often end up having to use it and the keyboard to play complex games needing many keys.
Logitech has announced its first entry into the gamepad market with the G13. According to Logitech, the gamepad is intended to complement the mouse and keyboard, ideally the Logitech G15 keyboard and G9 mouse. The G13 offers three game modes with 25 programmable keys each and a programmable analog stick.
The keys and game modes combined give 87 ways to program the G13 with the software installed. Custom game profiles can be bound to each button and users can bind macros in game to the keys on the G13. The built-in LCD is 160 x 43 pixels and sounds much like the LCD on the G15. Logitech says the gamepad will be available in December for $79.99.
G13, Gameboard, Logitech