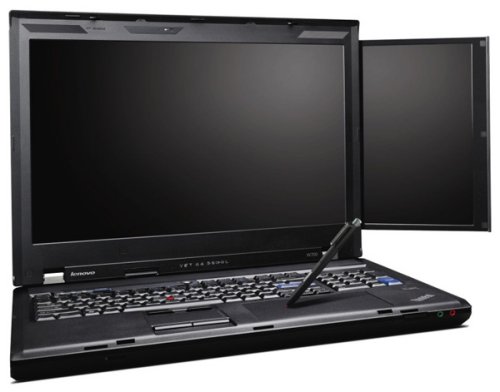 We told you about this dual-screened ThinkPad a few days ago, but now more details have come to light. The W700ds comes with your choice of Intel Core 2 Quad processors and is combined with the NVIDIA Quadro FX 3700M GPU. RAM maxes out at 8GB and SSD / HDD storage maxes out at 960GB.
The primary 17-inch screen is supposed to be the brightest on the market, and if that's not drool-worthy enough, it sports an integrated WACOM digitizer. The 11 pound laptop starts at $3,600, so you'd better start saving your money for January it ships.

Yes January. Hey it wouldn't have fit in your Christmas stocking anyway.
details, dual screen, IBM, laptop, Lenovo, ThinkPad, W700ds