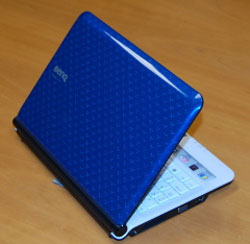 Say the word netbook and visions of BenQ don't jump to my mind; I think more of external DVD burners. That didn't stop BenQ from being the next firm to jump into the netbook market and its first offering is called the JoyBook U101.
Laptop Mag got their geeky hands onto the 10-inch netbook and found that it had the same poorly placed right shift key that the Asus Eee. At least BenQ went for colors and patterns rather than the same old black, white, or silver colors everyone else makes.
The lid of the netbook has emoticons covering it and can be had in black, white, blue, and pink. The screen has a resolution of 1024 x 576 (most 10-inch netbooks have 1024 x 600 resolution). The machine has 1GB of RAM and uses a 1.6GHz Atom CPU. Storage is to a 160GB HDD and the system runs Windows XP Home.
BenQ, Joybook, Laptop Mag, Netbook