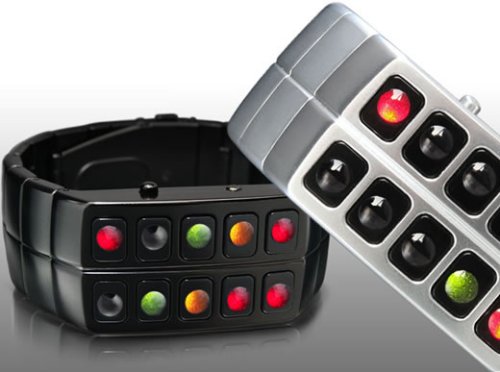 Tenmetsu is the latest addition to the brand new line of Kisai timepieces from Japanese watch importer Tokyoflash. The idea behind this one is that with three LEDs positioned beneath each lens, you'll get a transition between LED colors, creating an unusual look. And it does. As usual Tokyoflash comes up with a unique design.
This one is nice and light weight because it's made from aluminum. You can get one in either silver or black. So how do you read the time on this one? The time and date are shown in sequence by color. Red LEDs indicate 15 units, amber LEDs indicate 5 units and green LEDs indicate 1 unit, a combination of which present hours, minutes, months and date. Still confused? Me too.

The Kisai Tenmetsu watch is available from the Tokyoflash website for $257.
design, japan, Kisai, LED, style, Tenmetsu, TokyoFlash, watch