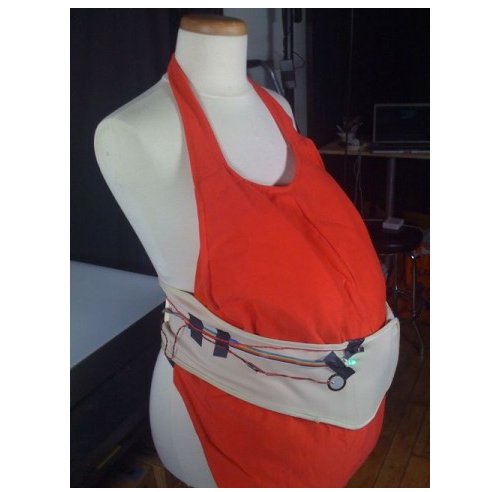 Unborn children can now communicate with the outside world. Corey Menscher wanted to experience the kicks, movements and other utero activities of his unborn child, so he developed the Kickbee, a strapped-on set of piezo sensors that monitor the baby and send wireless updates about it to Twitter.
Just wrap a stretchy band around your wife, velcro it in place, and the sensors will react to movement. It also sports an Arduino to make sense of the inputs and wirelessly transmit them, via Bluetooth, to a nearby MacBook Pro; it's the Pro that actually sends out the Twitter updates, not a magic baby.

Right now the sensors are too "touchy", but that's being worked out. And Corey's wife has to be within Bluetooth range.
child, Kickbee, twitter, unborn, womb