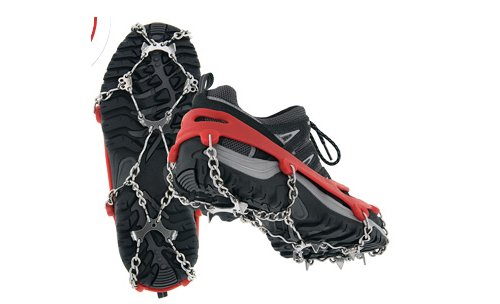 If you find yourself slipping and sliding in the winter months, why not make like your car tires and get some chains on your sneakers? This is an absolutely brilliant idea. And they go nicely with the Tire tread iPhone case.
For $59, you can throw fashion out the window and make sure that your sneakers always have a firm grip in snow and ice. They feature "strategically placed stainless steel spikes connected to a dynamic flex-chain with a tough elastomer shoe harness". And they don't require any special buckles or straps.

Would you rather fall and break your arm, or look like a dork? It's not an easy decision. But I think I can handle the fall.
chains, ice, Kahtoola MICROspikes, shoes, sneakers, Snow, tire, traction, winter