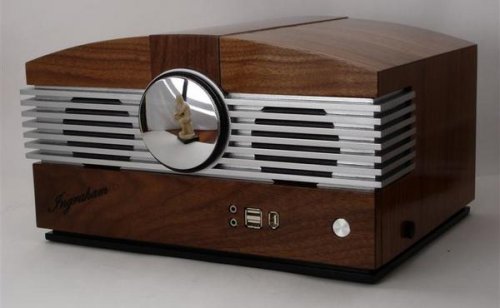 Jeffrey Stephenson is no stranger to awesome casemods. He's outdone himself this time however, with this one, dedicated to the Ingraham Cabinet Co., creator of radio cases in the WWII era. The Ingraham case mod is walnut-clad (though veneered) just like the originals he was inspired by, featuring a hand-built basswood frame layered on a mini-ITX SilverStone case.
Check out the polished chrome knob on the front from an Arlen Ness catalog, perched atop a final retro flourish: a Firewire 400 port. under the hood, things are less art deco and more modern: a VIA VB8001 motherboard, a 1.6GHz Nano processor, 4GB of DDR2 memory, and a 64GB SSD.

Great work. Jeff was clearly born in the wrong era. Luckily for us.
awesome, casemod, Jeffrey Stephenson, retro, walnut, WWII