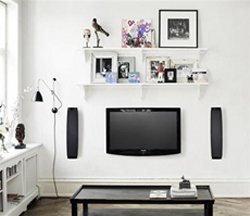 Jamo has announced the A 804 wall-mounted speaker. The A 804 will help you out by not having to buy separate home theater audio components when one model will do it all for you, with good performance in a slim speaker.
The A 804 sports a contemporary design that will match most flat panel TV's. It can be mounted horizontally and vertically, so it works well as a center channel or a front left or right, even rear surround speaker. Under the hood, the A 804 shows off Danish audio design. The .75-inch silk-dome tweeter featuring Jamo's proprietary WaveGuide technology makes for clean, clear highs, while the 4.5-inch midrange and two 4.5-inch woofers provide stirring midrange and deep bass.

At $449 each, the A 804 is scheduled for release next month.
A 804, Home Theater, jamo, speaker, wall-mounted