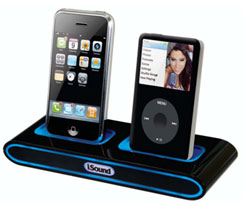 With the massive popularity of the iPod and the iPhone chances are that there are many homes around the country that have both devices vying for the precious outlet space on the wall. Walk into the average gadget hounds home and you are likely to find cables and devices charging in several places.
If you (or your wife) are looking for a cleaner and more attractive way to charge your iPhone and iPod at the same time, this may be the device for you. i.Sound has a new gadget called the i.Sound Twin charger that lets you charge any two Apple 30-pin connector devices at the same time from one outlet.
The only drawback is that it seems the device won't allow you to synchronize while you charge. The device is wrapped in glossy black plastic and has blue LED lights to draw attention to your beloved gadgets. The maker says that the charger is licensed by Apple and it is available now for $39.99.
Apple, charger, iPhone, iPod