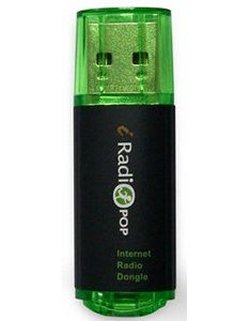 If you want to tune in to Internet radio, but lack the means, then you may want to check out the user friendly iRadioPop Internet radio dongle. Just plug it into any available USB 2.0 port and you're ready to go.
The interesting thing about this device and what makes it stand out is that it features an integrated recorder which allows you to capture and store your favorite songs. Preset station favorites let you go straight to your regular online radio places without having to search them out.

Some other features are: Direct tune to the "Default station" music, Immediate access to "My favorite" stations on any PC, Gives a Hyperlink back to broadcaster's website for detailed information, Auto updates the latest stations constantly, and one Click to sort hottest stations by country and genre.
dongle, internet, iRadioPop, Radio