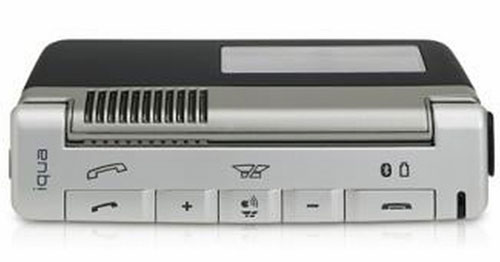 One thing that Bluetooth handsfree kits have in common is that you need to replace batteries or charge them. That can be tedious, especially if you live in a state where hands free kits are required and yours goes dead while driving.
A company called Iqua has a new Bluetooth handsfree kit that promises to provide unlimited talk time called the Iqua VizorSUN. The device gets power from a solar panel on the back of the gadget. In optimal light conditions, the maker says it will work indefinitely.
In reality, I bet you find it runs out of juice on occasion, especially if you live in an area prone to clouds or fog that block light. It should be compatible with most Bluetooth equipped cell phones, including the iPhone. You can grab one of these from the Apple Store.
Bluetooth, handsfree, iGo