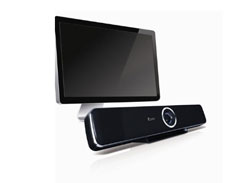 I have seen soundbars for home theater sets ups that provide good sound and a clean install look. They place speakers inside a long, slender box that is designed to sit under the TV in your living room rather than boxy speakers that are designed to stand beside the TV.
iLuv has introduced a new 2.1 speaker set for PC that looks like a soundbar. The long and slender device has a pair of speakers inside with a subwoofer. The system uses SRS-XT technology to simulate surround sound for movies and games.
Individual controls for bass, treble, and master volume are offered and the speakers are magnetically shielded to prevent any interference with your computer. Three USB ports are built into the iSP200 2.1 speakers and it can connect to the PC via USB or a 3.5mm audio port. The speakers are detachable from the main unit for placement if needed. Total power for the system is 32W RMS.
iLuv, Soundbar, Speakers