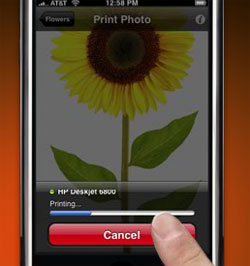 It seems like every time I go to a party or an event where people are taking pictures more and more folks are taking pictures with their mobile phones. The iPhone is one of the most popular devices on the market and as such, many of these mobile phone photos are taken on the iPhone.
HP has announced a new app for the iPhone that is available now on the App Store for free. The app is called HP iPrint Photo and allows users to print images directly from their iPhone to Wi-Fi equipped HP printers.
The app sends the photo over a home or office wireless network to the printer in one step. HP says that the app is compatible with Apple Bonjour technology and takes advantage of the iPhone's multi-touch interface for fast and easy printing. Images printed with the iPrint app are sent in 4 x 6 size.
App Store, HP, iPhone