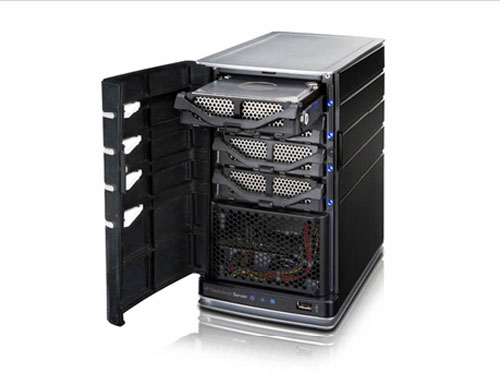 With all of the digital content in the average home today from digital photos to digital home movies shot with a camcorder there is lots of content that users want to watch and enjoy around the home. The catch is that the digital content is often stuck inside of one computer on the network with no easy method of accessing the content from elsewhere.
HP has introduced a pair of new home servers for Mac and PC users. The HP MediaSmart Server will be offered in two models including the ex485 and ex487. HP says that the server will automatically organize files across the network and stream media across the home network and the Internet.
Both servers offer the same features including HP Media Creator, Media Streaming, Photo Publishing, viewing, and the system acts as a backup repository for PC and Mac computers. Both machines can be optioned with up to 9TB of storage and both systems have Intel Celeron 2GHz CPUs and 2GB of RAM. Storage capacity is up to 9TB. The ex485 includes 750GB of storage for $599 and the ex487 comes with 1.5TB for $749.
Home Server, HP, MediaSmart