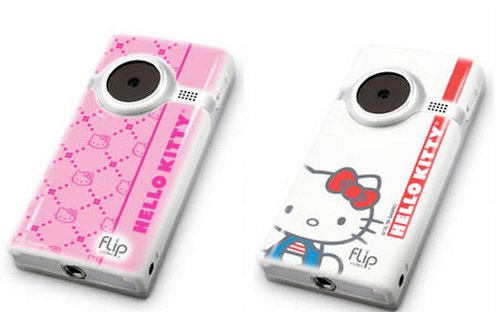 Has anyone cross-referenced the prophecies of Nostradamus with Hello Kitty? Because I'm pretty sure she's the Anti-Christ. Anyhow, the kitty is back thanks to Pure Digital Technologies' Flip Video lineup getting all Hello Kitty-fied with the Mino and MinoHD. Like their un-kitti-fied cousins, the camcorders sport one-touch video recording, a built-in USB port, and can record 60 minutes of video with a rechargeable lithium-ion battery.
Most importantly for those willing to worship at the kitty altar, the camcorders come in eleven different Hello Kitty designs. Apparently, the price will be $179.99 for Mino and $229.99 for MinoHD, which is the same price as without the kitty graphics.

And I looked, and behold a pale gadget: and her name that sat on it was Death, and Hell followed with her….
flip, Hello Kitty, Mino, Pure Digital