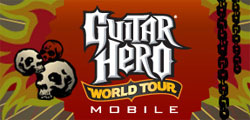 Music games are among the most popular video games around right now and they are available on virtually all gaming systems form consoles to the PC. Mobile phone users that like to play games while on the go can also get into the action with a new Guitar Hero game.
Guitar Hero World Tour mobile is available now on all major carriers nationwide and will be debuting for the Android platform in January. The game offers real-time multiplayer gaming capabilities for players no matter what network their handheld device operates on.
The game offer 15 MP3 quality tracks that gamers can play on the guitar or drums. New bonus songs will be added to the set list monthly and will be available for multiplayer gaming. The set list for the game includes Lenny Kravitz, Blondie, Skynyrd, Sublime, No Doubt, Oasis and more.
guitar hero, Mobile Gaming