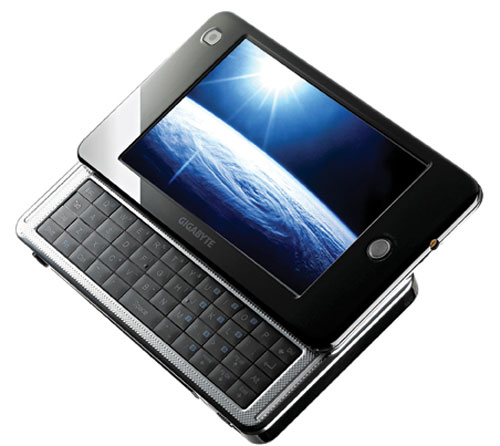 I like netbooks, I happen to think that the tradeoff of screen size and some power for portability is well worth it for the way I use a notebook. That said I think going below an 8-inch or 9-inch screen size is too much of a compromise, but some folks want even more portability in their web access device.
The MID walks the line between a netbook and smartphones like the iPhone and Gigabyte has an interesting new MID called the M528. The M528 was seen back in June, but Gigabyte has updated the specs. Running on Linux the device has a 4.8-inch LCD screen with a resolution of 800×480 that is touch sensitive.
The CPU is an Intel Atom Z500 running at 800 MHz and it uses the Intel SCH UL11L. Onboard memory is 512MB and storage is to a 4GB SSD. Bluetooth is integrated and a 3MP autofocus camera is optional. WLAN at 802.11b/g is offered and the machine now offers a HSDPA mini card modem as well. The QWERTY keyboard is backlit and the battery is a 3.7V 2700 mAh unit.
Gigabyte, M528, MID