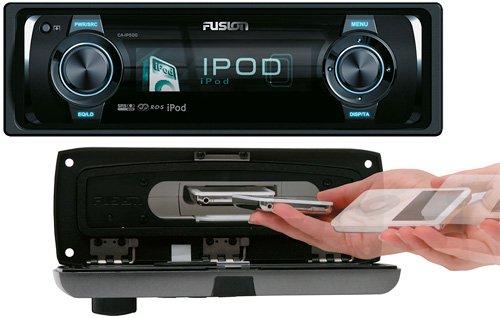 Car stereos that are also iPod-friendly are nothing new. Thing is, we're mostly talking about a dock, with your iPod sitting in front for thieves to spot. The CA-IP500 from Fusion Electronics is different. The face flips open so you can insert your iPod like you would a Cassette tape.
The device will work with the iPod Touch Gen1 & 2, the iPod Classic Gen5, 6 & 7 and the iPod Nano Gen2,3 & 4. Once in it's slot, you control the iPod via joystick and touch wheel, just like on the iPod. You'll also get a dot matrix OLED display, SRS Wos sound shaping, AM/FM tuner, 7-band equalizer, security code, aux-in port and of course it will charge your player while it's inside. It will cost you $349, so while it isn't cheap, it may help you avoid a broken window and a missing iPod.

It's a great idea and I should add that it also helps keep your car tidy, with one less gadget in your way.
audio, CA-IP500, car, Dock, Fusion, iPod, stereo