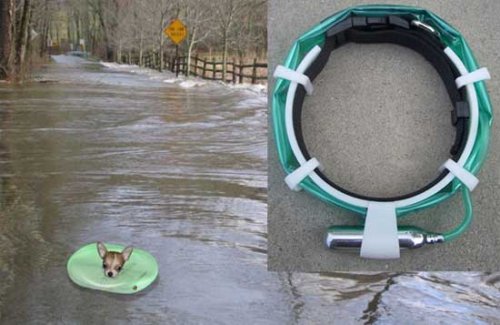 The Float-a-Pet collar is a good idea. For one thing it keeps your pet safe, for another it's fun to see pet heads floating down Main Street during a flood. Win/win. It's an inflating floating emergency collar with a flashing light so you can locate your pet even in the dark.
Sure, dogs can swim, but that doesn't mean they don't get tired, just like us. It may not be such a great idea that the flashing light is powered by solar. Probably not the best way to power something that is made for emergency nighttime situations. But with this thing, at least your pet has a chance to become one of many floating heads in a flood situation.

Imagine if you will, a sea of dog heads all riding the current to safety, all chasing cats who also have inflatable collars. It's moments like that that make life interesting.
collar, dog, floating, flood, pet, safe, safety