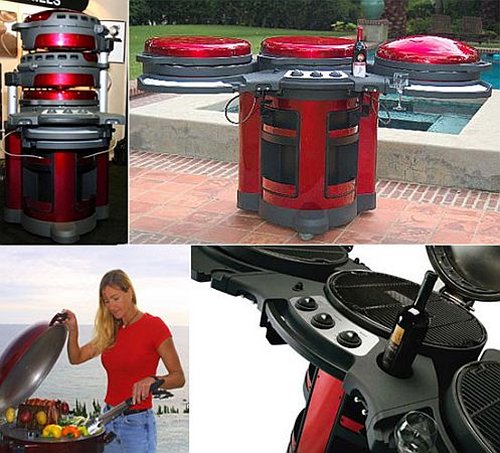 Check this awesome grill out. If you liked the iQue grill, you'll like this one. Hampton Grills has pulled out all the stops with this grill that resembles a moisture evaporator on the planet Tatooine. It unfolds into three separate grilling stations, each with their own individual temperature controls.
You can do it all with this one whether you grill, steam, smoke or grill, rotisserie, stir fri etc. It all can be done on this one grill. The whole unit folds up at the push of a button, which is pretty damn spiffy. The grill also features nearly 1200 square inches of primary cooking space on three independent grill stations. It will cost you though. The Hampton Grill is priced at $4,000.

It took over 12 years in development and comes in nice bright colors.
Elite, grill, Hampton grill, outdoor, Tatooine, unfolds