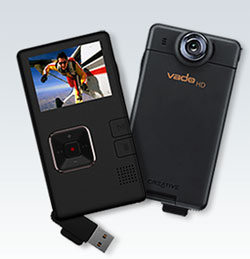 When my four-year-old daughter was born most camcorders available still used tapes to record video. The tapes were Mini DV, not the massive VHS tapes from my youth, but tapes nonetheless. Today tapes are quickly going the way of the Dodo with most camcorders using hard drivers or flash media for storage.
Creative has announced that its Vado HD camcorder is now shipping at a price of $199. The small camcorder records in 720p HD resolution and video can be output directly to a HDTV in 1080i resolution over an included HDMI cable.
Storage capacity is 8GB, enough for two hours of recording. Other features of the camcorder include an integrated USB cable for transferring video to a PC, two-inch LCD screen, precision glass optics, and built-in software for converting and uploading video for YouTube and other video sharing sites.
camcorder, Creative, HD, Vado