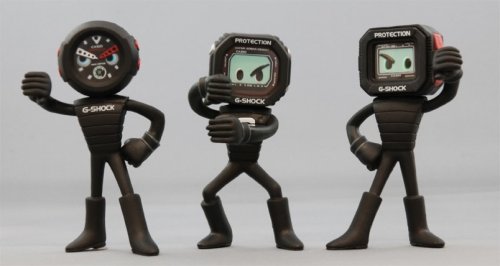 Obviously this is a marketing gimmick. But ask yourself, are these robot watches more awesome than your typical watch? Hell yes. Casio's 25 years of G-Shock celebration continues with the offering of a new set of character watches designed by Shiro Nakano.
Now that I've given you the good news, it's time for the bad. These robot characters themselves are not available for sale. And yes, that's a big mistake, because they are amazingly cool. They would make great desktop clocks. And good robot clocks are hard to find. Ask any robo-enthusiast.

I know. I, like you got my hopes up when I saw these. We can only hope that at some point they become available.
anniversary, awesome, Casio, clock, figural, g-shock, robot, watch, Watches