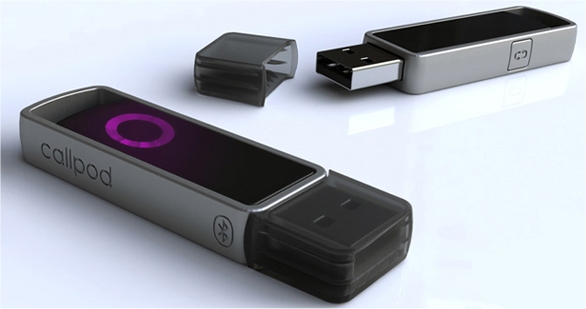 The Drone, a Class-1 Bluetooth adapter brought to us by the Bluetooth obsessed people over at Callpod, packs quite a bit of convenience in such a small package. We had heard talk of the Drone since back in March and the device launched just last month. We were lucky enough to get a sample to try out and see just how well it performed. The Drone boasts a 100 meter (328 foot) range when paired with other Class-1 Bluetooth devices, and will also increase the range at which Class-2 devices will communicate. CallPod states that the device is so simple you "plug-n-play, then walk away" which is pretty true…
One absolutely brilliant aspect of the drone is its ability to auto-magically pair with a headset or headphones (such as the Callpod Dragon), eliminating the need to type zeroes into a prompt making it incredibly easy to use, saves time and avoids inconveniencing you. And out of the box the drone is intended to be used in this fashion, converting your Bluetooth headset into a mic and speaker combo, making it ideal for gamers or people who find themselves regular Skype users. The drone performed wonderfully when paired with a Jawbone aiding in surviving the zombie horde in Left 4 Dead, and as advertised will swap over to Skype if you receive an incoming call. It also gives you a feeling of liberation when you can wander around while streaming music directly to your headset.
Aside from the super-convenient pairing, the drone is also able to function as a regular Bluetooth dongle, allowing it to be paired to your phone to sync contacts and such, but unfortunately this requires the sync button on the Drone to be held down for 10 seconds, and if you restart your computer the Drone appears to reset itself back to the out of the box functionality. This can be quite inconvenient if you plan on using the Drone primarily as a Bluetooth dongle. Furthermore if you plan on using the Drone as a dongle in Windows XP you have to install drivers from the Callpod website, making the Drone lose some of its plug and play luster. If you don't mind the slight quirk the Drone will boost the range of your Bluetooth devices slightly, and when paired to a Class-1 device that isn't a headset, such as a Roomba with a Class-1 Bluetooth adapter, the range can be quite useful as well as entertaining… and the 100 meter range is truly as advertised.
All things being considered, if you need a Bluetooth adapter that will allow you to get some extra, and quite possibly needed, use out of your Bluetooth headsets the Drone will help you do that in a brilliant and simple fashion right out of the box. If you just need a simple dongle, however, it may not be worth the extra cash.
The Drone is on sale now at http://www.callpod.com/ for $50.
TAGS:
Bluetooth, Callpod, Class-1 Bluetooth, Drone