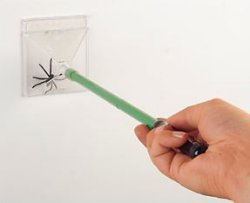 Smashing bugs may be fun if you're a cruel sort of human. But the problem is you're left with bug entrails all over your wall, along with a corpse that may or may not fall to the floor, depending on how much goo is holding it in place. So, then you either have to clean up, or consider it part of the decor. You're pretty nasty if you go with the latter.
The Bug Trapper aims to solve your bug guts problems. The idea is that you just trap the bug, flip the trapper over to close the door, and release the bug safely outside. Because that's the humane thing to do (Unless it's HUGE and fast, in which case you just squish the sucker anyway possible).

It's a great way to dispose of these nasty critters and it only costs $8.
Bug Trapper, bugs, clean, humane, insects