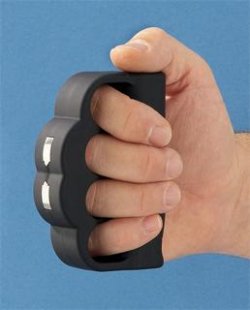 So, it's time to upgrade from the Umbuster Umbrella as it's only appropriate for breaking jaws in the rain. But what could deliver more destruction in a more compact package? Well, the Blast Knuckles will deliver a promised stun power of 950,000 volts. That's enough to shock a cartoon soul right out of anybody and watch it play the harp all the way up to heaven.
If you use these, I would advise running like hell and changing your name as you will probably be charged with murder soon. Seriously, this is insane. Only use this in self defense and don't zap yourself. Appropriately, the blast knuckles aren't legal in all fifty states in the US, though you could probably still buy it for $50.

Talk about overkill. You could probably punch a chicken and have an instant cooked dinner.
000 volts, 950, Blast Knuckles, brass knuckles, dear god no!, electricity, jolt, pain, shock, stun, weapon