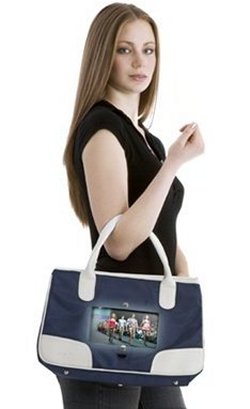 BagTV gives new meaning to the term funbags. Funbags will no longer be a term for a woman's, uh, you know. Instead these fancy purses with TV's on them will be known as funbags. Which is probably more appropriate. Before you know it all of the ladies will be toting the BagTV.
This model not only carries your favorite make-up and girly stuff within, it comes with a built-in 7″ LCD display, a DVD/MP3 player and supports digital photo playback. As with most of other girlly accessories, this model will come in a variety of colors and finishes to match all of your clothes. The battery life leaves a lot to be desired, as you might expect, rated at 2.5 hours.

So it's best for short bursts of entertainment rather than watching long movies. The BagTV is £295.
bag, BagTV, lady, purse, tv, Woman